What To Do To Be Earthquake Ready
As we know, Southern Californians are very familiar with earthquakes but over the last week, anxieties were particularly heightened due to a swarm of seismic activity in the Salton Sea area that prompted scientists to predict an elevated risk in the SoCal area.
Earthquakes are one of the most common, unpredictable occurrences on Earth. There is always the chance of one, but there is no way of predicting or giving any warning to when it may occur. Therefore, quake preparedness is essential. If you're a homeowner be sure to call your insurance agent and put an "Earthquake" insurance policy in place as standard home/condo/renters policies may NOT cover earthquakes.
- Be sure to secure items that could fall and cause injuries. Put straps on all television, paintings, appliances, furniture and bookshelves.
- Install safety latches on cabinets to keep kitchen utensils and appliances from toppling on you.
- Secure or remove anything that could fall on your bed like heavy frames or books.
- Affix a safety film to windows that will leave shattered glass in place.
- Make sure your gas heater is secured to the wall. Consider installing automatic valve that shuts off when shaking arrives, reducing the risk of broken gas line that could potentially cause a fire. At the very least, learn how to shut off your gas manually.
- Get a fire extinguisher or two. Make sure everyone at home knows how to use them.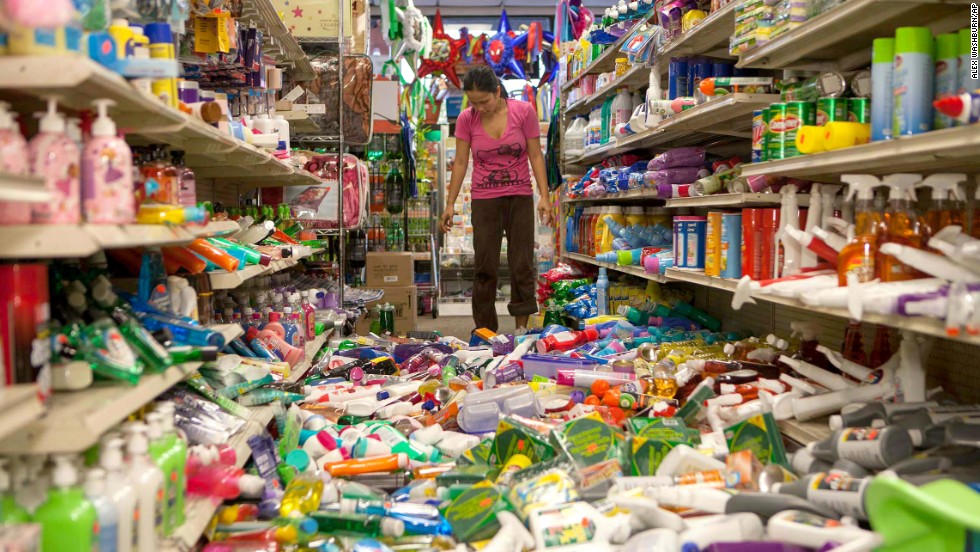 Nina Quidit cleans up the Dollar Plus and Party Supplies Store on August 24 in American Canyon, California after the earthquake wreaked havoc on the store's shelves.(CNN.com/Holly Yan and Joshua Berlinger)
DROP to the ground (before the earthquake drops you!),
Take COVER by getting under a sturdy desk or table, and
HOLD ON to it until the shaking stops.
Check your home's foundation
See if your home needs a retrofit. The last thing you want is for your house to slide off in an earthquake. Hire a foundation specialist to inspect and make sure there are no visible signs of weakness in your foundation. Plus, a retrofit job now could head off a costly repair after an earthquake.
A house in Fillmore sits askew six months after the 1994 Northridge earthquake. (Joe Pugliese / Los Angeles Times)
- Store critical supplies like water, canned goods, medicines, first aid kits and anything else you'd need for one to two weeks, and maybe longer. Be sure to have enough for you and your pets.
- Keep a full tank of gas in your car because a power outage will make it very hard to get fuel.

- Be sure to keep enough cash on hand in case ATM's and banks are inaccessible.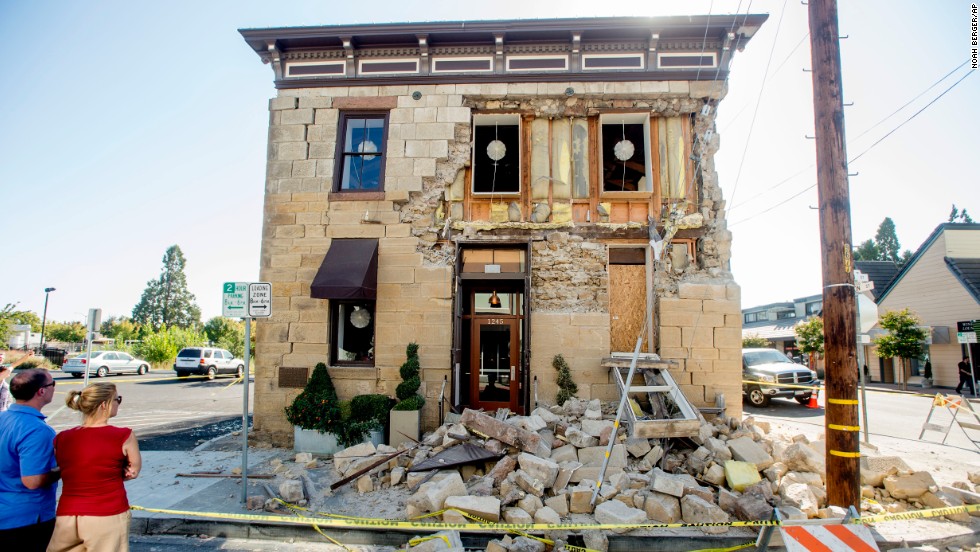 Pedestrians stop to examine a crumbling facade at the Vintner's Collective tasting room in Napa on August 2014. (Holly Yan and Joshua Berlinger, CNN.com)
Your family may not be together when disaster strikes, so it is important to plan together in advance.

Consider the following questions when making a plan:

- How will my family/household get emergency alerts and warnings?
- How will my family/household get to safe locations for relevant emergencies?
- How will my family/household get in touch if cell phones, internet, or landlines don't work?
- How will I let loved ones know I am safe?
- How will family/household get to a meeting place after the emergency?
via:ready.gov

For your real estate questions contact:
Cecil Austria, GRI
Solutions Real Estate - San Diego
realestate@cecilaustria.com
760.305.2273
Author:
Cecil Austria
Phone:
760-305-2273
Dated:
October 6th 2016
Views:
1,780
About Cecil: Cecil Austria and Solutions Real Estate are Carlsbad-based realty, serving greater San Diego Cou...